Reverend Derek Erdman - The Littlest Reverend
Denominational and non-demoninational marriages, baptisms & funerals. Custom or traditional ceremonies.
Prices range from FREE to $1000.
Please be aware that I take this ceremony very seriously.
Services are mostly free as long as I get a fancy wedding meal and can bring a guest. Express services also available. I will marry almost anybody to anything,
if need be.
You can ask a question about almost anything simply by using the contact page.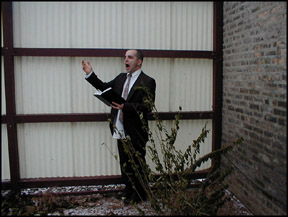 Clients include:
Angela & Boomer Lowe
Norah Utley & Paul Wear
Kori & Chris Grumboski
Almaas & David Rockefellow
Lacey Swain & Ruben Mendez
Melanie & Geoff Atkinson
Kari Sola & Sean McMahon
(and many, many more)