Hello. My name is Derek Erdman and I'd like to offer every resident of Seattle, WA a free drawing of Carol Channing.
To receive your free drawing of Carol Channing, you simply have to follow these easy instructions:
#1. Scan or photograph an official ID card (obliterating private information if necessary) or a utility bill with
your name and address proving that you are a resident of Seattle, WA.*

#2. Send a JPG file of the scan or photograph to the email address found on this page. Include your name and address.

#3. Allow 1-5 weeks for delivery to the address you've provided. Your drawing will be 8.5"x11" folded
twice in a standard #10 envelope.
Here are samples of the drawing that may be similar to the one that you will receive: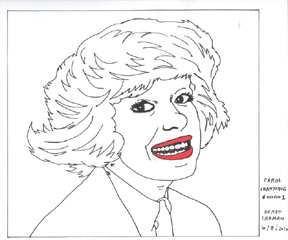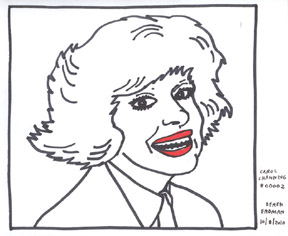 *for childen or people without utility bills or ID cards, a written statement declaring Seattle
residency is sufficient.
Here's a list of people who have already received free drawings of Carol Channing.
Visit the gallery of Carol Channing drawings already sent.