Right-click on the title below to save if to your desktop, or double-click for stream.
Past Shows:
"Derek vs. Jamie vs. Doug vs. Geoff vs. Stan vs. Elisa vs. Dave"
Tracklist: (Intro: Jamie Drier) "Your Last Affront" Black Flag, "Splatterty Splat" Electric Eels, "Downloading Porn With Dave-O" The Moldy Peaches, "Red Eye To Jupiter" Mike Ladd, "Logan's Run" Babyland, "Four Teachers" Lake Of Dracula, "I Want To Be Your Driver" Chuck Berry, "Love At First Feel" AC/DC, "I Wanna Destroy You" The Soft Boys, "Whiplash" Metallica, "Beach Blanket Bongout" JFA, "Aftershock" Anthrax, "Melody Lee" The Damned, "Final Solution" Pere Ubu, "Dirt" Stooges, "Hard Times" Cro-Mags, "Womban" Godz, "8 Miles High" Husker Du, "Stinking Drunk" Big Black, "Rainbow In The Dark" Dio, "Night Clubbing" Iggy Pop. (Outro: Stan "Belly Soundtrack" Wood & "Kill From The Heart" by Dicks) 4.02.04
Notes: 3 tracks each in the order of the title. You figure it out.
"Derek vs. Elisa vs. Stan vs. Dave vs. Jamie"
Tracklist: (Intro: Stan Wood & "It's The Limit" by Cro-Mags) "Way Of The World" Flipper, "Come On Feet, Do Your Thing" Melvin Van Peebles, "Clenched Fists, Black Eyes" 7 Seconds, "Roller Coaster" 13th Floor Elevators, "Ping Pong Affair" Slits, "Damaged I" Black Flag, "Frightened" The Fall, "Surf's Up" The Beach Boys, "Bitchin' Camaro" The Dead Milkmen, "I'm Not A Loser" Descendents, "Doom Town" Wipers, "Blockbuster" The Jesus Lizard, "Bar-B-Q Pope" Butthole Surfers, "My Love Is A Liquid" Gary Numan, "Gardenia" Kyuss, "Symptom Of The Universe" Black Sabbath, "Evacuate" Negative Approach, "We're The Machine" Effigies, "Saturday Night Special" Lynryd Skynyrd, "Raindeers Are Wilds" Thee Headcoats, "Win!" Friends Forever.
Notes: This mix was made under the influence of beer. Stan's intro includes the phrases, "Suck a dick suck cum fuck" & "You suck a fuck shit eater, shit scum" because that's just how he's living, dog.
"Rossington Collins Hotmix"
Tracklist: "9:30 May 2" Minutemen, "Tempest" Integrity, "Love Song" Damned, "Gods From Outer Space" Tales Of Terror, "Bitter Peace" Slayer, "Caught In A Mosh" Anthrax, "Fist Heart Mighty Dawn Dart" Tyrannosaurus Rex, "Alcohol" Gang Green, "August" Love, "I Heard Her Call My Name" Velvet Underground, "Let's Go Get Cokes" The Faction, "No Love" Big Boys, "Busy Kids" Huns, "Murders In The Rue Morgue" Iron Maiden, "Eat Lead" Breaking Circus, "Nice People" Devendra Banhart, "Diamonds & Rust" Judas Priest, "Dead In A Motel Room" Dicks, "Social C" Polyestrogen, "Fast Cars" Buzzcocks, "Children In Heat" Misfits, "Street Parade" The Clash, "Surrender" Cheap Trick, "Hair Of The Dog" Bauhaus, "City Life" Manishevitz, "Boston Not LA" The Freeze. 11.22.03
Notes: Standard mix of us talking over records we like. Derek Erdman(powder), Dave Piper(liquid) & Jamie Drier(leaves) took turns. Stan Wood tries to read the set list at the end, but doesn't quite make it. In the middle of the show a bunch of people came over, and then they left. As usual, it's all over the place. Everything's dumb. I'm not hungry, but I could eat.
"'Mats Hotmix: Volume 1"
Notes: Conceived after a rousing argument about how the Bob Stinson-era Replacements held up to the Slim Dunlap-era Replacements. I hope you can see my side of the argument with the provided tracks. There will be a Volume 2 which will begin with Tim & take us all the way to whatever records they made after that. I'll tell you one thing, Bob Stinson would never play with W. Axl Rose, no way. 'Mats rule the scene, for sure. Fucking Rattlesnake, y'know?
Tracklist: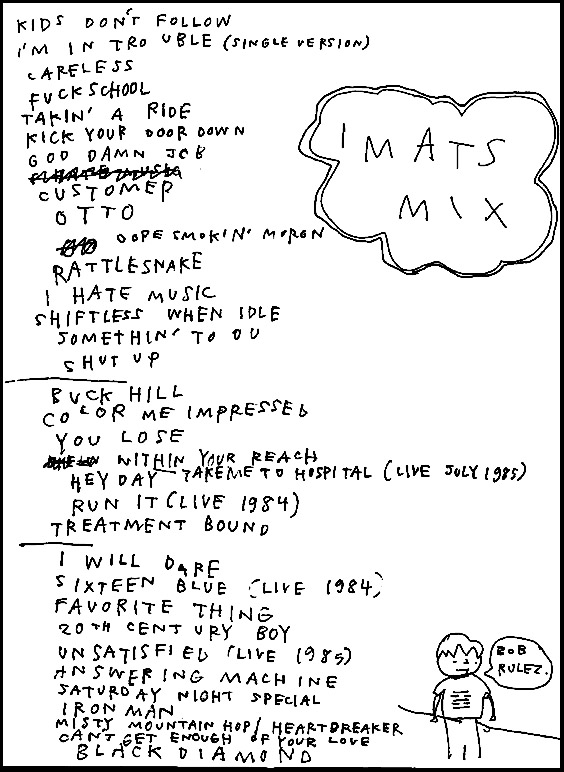 Tracklist: "Cyclotron" Electric Eels, "Fearless Vampire Killers" Bad Brains, "Motorbreath" Metallica, "Under Your Influence" Dag Nasty, "Requiem" Killing Joke, "Punks Dead You're Next" Slapshot, "Why Do You Hang Out" Offbeats, "Weakness" McRad, "Rabid" Damned, "Nothing" Negative Approach, "Richard Hung Himself" DI, "Chunks" Last Rights, "Get Away" Flipper, "Hardware" Septic Death, "You Stupid Asshole" Angry Samoans, "?" Joy Division, "?" GISM, "United Forces" SOD, "Alter Of Sacrifice" Slayer, "The Street Where Nobody Lives" Pagans, "Wirebrush" Happy Flowers, "Lexicon Devil" Germs, "Gimme Fire" GBH, "Gladiator" Jesus Lizard, "Spirit Horse Of The Cherokee" Manowar, "Haunted Town" Effigies. 8.16.03
Notes: Dave Piper and I drank some cough syrup and made this rad punker mix over which we talk the entire time. Most of our conversation is absolutely stupid, but the music we chose is so boss that our coolness is totally redeemed. Fuck, yes.
"PiL: The Earlier Stuff" (now unavailable)
Tracklist: "Poptones", "Public Image", "Low Life", "Albatross", "Flowers Of Romance", "No Birds", "(This Is Not A) Love Song (live)", "Radio 4", "Careering (live)", "Memories", "Theme", "Chant" & "Track 8".
Notes: A girl named Margaux has been staying with me for the past 4 days. All we've done is eat candy and listen to PiL. I'm quite happy with it, really. Tomorrow we're going to go to Grant Park to feed Alka-Seltzer to seagulls. 7.16.03
Tracklist: "Bricklayer", "All Tensed Up", "Don't Try To Call", "I'm Not Interested", "Gravity", "It's Not Funny Anymore", "Lifeline", "Something I Learned Today", "I'm Never Talking To You Again", "Chartered Trips", "Standing By The Sea", "Pink Turns To Blue", "The Girl Who Lives On Heaven Hill", "If I Told You", "Celebrated Summer", "Terms Of Psychic Warfare", "59 Times The Pain", "Flip Your Wig", "Every Everything", "Makes No Sense At All", "Green Eyes", "Flexible Flyer", "8 Miles High", "I Don't Know For Sure", "Sorry Somehow", "Eiffel Tower High", "Could You Be The One", "Charity, Chastity, Prudence And Hope", "No Reservations", "Standing In The Rain" & "Gotta Lotta"
Notes: Husker Du always meant college to me for some reason. Even way before I went to college, I listened to a lot of college radio, and there was a lot of Husker Du. I remember picking up 'New Day Rising' and thinking that it probably was what college kids listened to and thought about. It's true - as a teen, I was pretty confused. As I made this mix, I noticed that it's pretty Grant Hart-heavy, because that guy wrote some fucking fantastic songs! Really, as far as singing drummers go, he towers over that guy in the Romantics. This mix is totally dedicated to the people of whom I think when I listen to certain Husker Du songs: Jene Malone, Joe Malone, Jen Stevenson, Bobby Burg & Karen Ellen. I had hoped to make this a Replacements vs. Husker Du battle mix, but it really isn't even a close match. the 'Mats later stuff was nothing compared to later era Huskers. 3 hour SST mix up next, most likely. 6.08.03
"You Can Never Go Down The Drain #2" (now unavailable)
Tracklist: "You Can Never Go Down The Drain" by Fred Rogers, "Very Friendly" by Throbbing Gristle, "Graceless & Unusual" by Frankenixon, "Spector Vs. Rector" by The Fall, "Why Don't You Try" by Leonard Cohen, "Smokescreen" & "Advice On Arrest" by The Desperate Bicycles, "Reward" by Meat Puppets, "Flood" by The Blue Orchids, "Waiting For Jimmy To Kick" by Butthole Surfers, "Havana Moon" by Chuck Berry, "Space Junk" by Devo, "Just Hip" by James, "Panic In Detroit" by David Bowie, "Lose This Skin" by The Clash, "KKSuck2" by The Dead Milkmen, "Hollow Tree" Cruel, Cruel Moon, "2 H.B." Roxy Music, "Northern Line" by Opal, "If She Ever Comes" by Nig Heist. 5.17.03
"You Can Never Go Down The Drain #1" (now unavailable)
Tracklist: "You can Never Go Down The Drain" by Fred Rogers, "Hand In Glove" by The Smiths, "You Ain't No Astronaut" by Melvin Van Peebles, "Night Of The Vampire" by Roky Erickson, "Bees" by His Name Is Alive, "New Rules No Rules" by Flipper, "The Last Time" by The Rolling Stones, "Baby's Gonna Die Tonight" by Adam Garfield, "Sell Me" by Frankenixon, "Anti-Kidnapping Song" by Olympic Death Squad, "Burn Out" by Redd Kross, "I'm Not A Gentleman" by Geto Boys, "Street Hawk I" & "No Cease Fires!" by Destroyer, "Tips For Teens" by Sparks, "Who Killed Marilyn" by Glenn Danzig, "Blue Bag (Inside Paper)" by Can, "Saturday Night At The Book Store" by Dicks, "Baby Love" by The Supremes, "Speeding Motorcycle" by Daniel Johnston, "Nassau" by Blind Blake, "Debbie Harry" by Family Fodder, "President Gas" by Psychedelic Furs, "I Wish You Wouldn't Say That" by Talking Heads, "Vastapol" by Elizabeth Cotten, "54-40 Or Fight" by Dead Moon. 5.14.03
Before this mess, I had a free-CD-in-the-mail offer. I certainly may do it again, don't hold your breath.