NOTICE: THIS SERVICE IS NOW COSTS $20. I AM SO SORRY.
The popularity of social networking websites is undeniable. One element of these sites that many users find enticing is
reconnecting with old friends. But let's face it, after scanning all of those old photos from yesteryear you've noticed that
you've grown rather old. You're most likely very self conscious about how you're going to appear to the people that you
last saw in Junior High School. You could take a non-revealing overhead face only blurry digi pic, but everybody knows
what you're trying to hide: a giant belly, a receding hairline & thousands of wrinkles. You've gone to seed. On the other-
hand, you might just want a drawing of your face.
IRREGARDLESS, FRET NO MORE!
I know that "irregardless" is not a word, I just literally like saying it. Oops, there I go again!
Let Derek Erdman draw your face from your favorite personal photo for $20!
Add details, change your features, the sky is almost the limit!
VERY IMPORTANT NOTICE: This price is per head. $20 per head. Two heads = $40.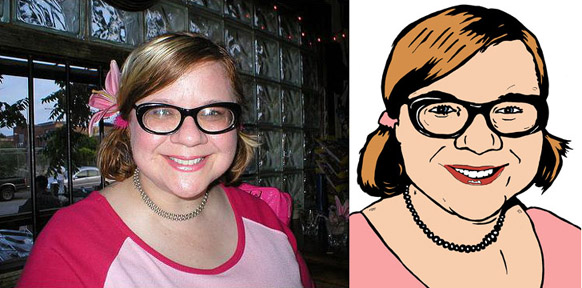 Sheila Sachs gave me the idea for this service. Therefore, $1 will go to her for every order placed.
The above left photo was taken by Edith Frost.
NO PETS, ONLY HUMANS.
WHAT A BARGAIN! ORDER NOW! PAY UP (ONE HEAD $20):
WHAT A BARGAIN! ORDER NOW! PAY UP (TWO HEADS $40):
After you pay please email a good face-forward photo to derekerdman @ gmail .com. The highest resolution is
the best, your drawing will be mostly as it appears in your photo. Please note, the rights to this portrait are yours
to do with whatever you want, reprint them into infinity, Mannie Garcia.
"I think your service is brilliant (though I think you are undercharging. . . )" Jerry Boyle 2009